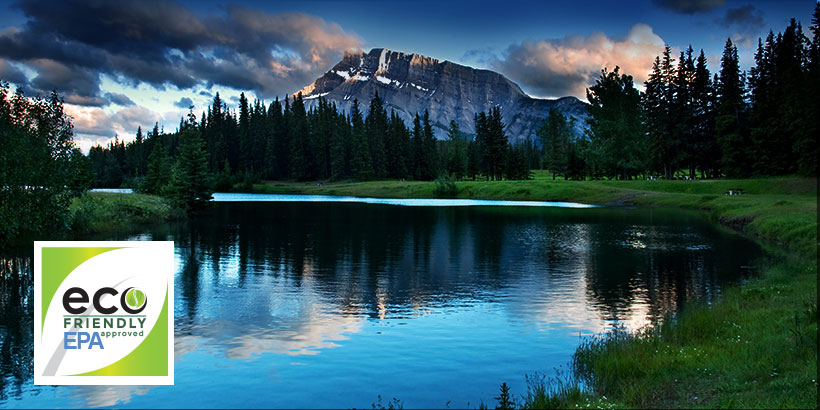 Clean Burn is a strong advocate of environmental protection and energy conservation. Our multi-oil heating systems, storage tanks and recycling centers – which meet all EPA requirements for waste oil recycling – eliminate extra handling and transportation of waste oils and, consequently, help avoid the possibility of waste oils entering our water supplies.
EPA has identified on-spec used oil as a traditional fuel, as on-spec used oil is similar in composition to virgin fuel oil and has been historically managed as a valuable fuel product rather than as a waste. More information can be found on EPA's official website here.
EPA has specifically clarified that used oil combusted in an oil-fired space heater that meets the provisions of 40 CFR 279.23 need not be tested to establish whether or not such oil is on or off-spec. This includes used oil generated by small facilities such as auto repair shops and machine shops that have such units, and used oil generated by homeowners who change their own oil (referred to as "do-it-yourself" or "DIY" oil) that are burned in such units.
The Green Energy Solution
In a world faced with severe environmental challenges, Clean Burn just makes sense. First, recycling your waste oil through on-site heat recovery reduces the risks of spills and contamination. Second, the use of waste oils as a fuel source sharply reduces pressure on natural gas and fuel oil supplies. Finally, Clean Burn waste oil combustion meets or exceeds every Environmental Protection Agency (EPA) requirement for helping preserve clean air. The EPA and corresponding agencies worldwide recognize Clean Burn equipment as a preferred method of recycling used motor oils.
What happens to your vehicle's waste motor oil after it's collected? Good question.
Consider the following chart: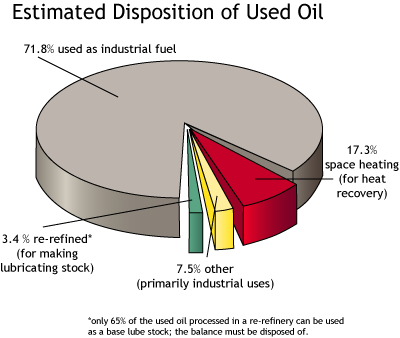 The disturbing news is that over 200 million of the 1.3 billion gallons of waste oil generated in the U.S. yearly are not collected, but rather dumped illegally or accidentally into sewers, streams, drains, landfills and backyards:
200 million gallons is the equivalent of nearly 20 Exxon Valdez spills each year.
One gallon of waste oil can contaminate up to one million gallons of fresh drinking water.
One quart of waste oil can create a two-acre slick on surface water.
40% of the pollution in U.S. waterways is from waste motor oil.
Sources:
American Petroleum Institute (API)
National Oil Recyclers Association(NORA)
"A few years ago I purchased a budget waste oil furnace, but the thing quit on me about once a week. Then I got a Clean Burn Saturn from Eco Heating Systems. What a difference! It was really affordable and now my shop is nice and warm on those cold mornings. I never have to fuss with it, and best of all it saves me tons of money. It is one sweet machine."

Bruce Bowden Car Care

"The only way to beat the energy crisis is to invest in your own company to lower your heating costs. Putting a Clean Burn heater in your shop will reduce your heating bills, and anything you can do under your own roof to save money is a win/win situation."

A. C. Tire Company

"Eco Heating installed 6 Clean Burns in 2008 to heat all our service areas. We saved a substantial amount on our heating costs."

Apple Ford

"We heat both of our truck repair facilities with Clean Burn waste oil furnaces. Our shops are large, and the Clean Burn furnaces save us more than $25,000.00 in fuel oil bills each winter. The furnace systems recycle our oil and save us money at the same time. That is a huge advantage to our business. nd EHS ia a great group to work with. The service and support we get from having a local distributor like that is really what sets Clean Burn apart."

Barr Truck Group – International and Freightliner

"We installed a Clean Burn CB-2800 waste oil heater in October 1998. At 16 years old, this furnace is a workhorse and is still going strong! Our shop stays warm and my employees stay happy. Eco Heating Systems cleans our furnace for us annually, and I have to say they do a great job. They are professional and efficient, and I can always get help over the phone or on site when I need it."

Foster's Auto Service

"We have purchased two waste oil furnaces from Eco Heating Systems. After extensive research, we chose Clean Burn because the quality and construction is beyond compare. Eco Heating Systems' office and service staff know their business. Our thermostats are set at 78 degrees, so bring on the cold weather! With no heating oil bills, it may not be heaven, but it's close."

Auto Tech Car Care, Inc.

"We purchased a second furnace from EHS because we were treated right the first time. In 2009, we purchased a Clean Burn waste oil furnace from Eco Heating Systems. Now five years later, we have saved more than $16,285. The key is to have plenty of storage to save your waste oil. Recently, we purchased a second Clean Burn for an additional building. We chose Eco Heating Systems to install our second furnace because Robert was competitive in pricing and really treated us right the first time. We love to save money, and a Clean Burn waste oil furnace helps us do just that."

Carbiz Service Center

"I bought a Clean Burn waste oil furnace from Eco Heating Systems in 2007 because I had heard good things about the reliability of the furnace and because I liked EHS after talking to them. If I had another location, one of the first things I would do, would be to add a Clean Burn waste oil furnace."

Owner, Lisbon Citgo Auto Center

"We have used competitive brands in the past and there is no substitute for the efficiency, construction quality and reliability of our Clean Burn units. I would definitely recommend Clean Burn. They are a great partner for our dealerships.The personal service and support we get from them is really what sets Clean Burn apart. Being able to utilize this waste oil on site that would have otherwise been a toxic environmental hazard means a lot to us. Having a heating system that helps the environment by recycling our waste oil on-site while saving us money is a win-win situation for our business."

Criswell Auto Group, Gaithersburg, MD

"I had another cheaper brand of waste oil heater. It should have come with a ladder attached to it because I was up and down so much working on it. I replaced it with a Clean Burn heater and have had reliable, trouble free heat ever since."

RC Service Center
Interested in a Clean Burn?